Zoho Books vs QuickBooks: Price and Other Features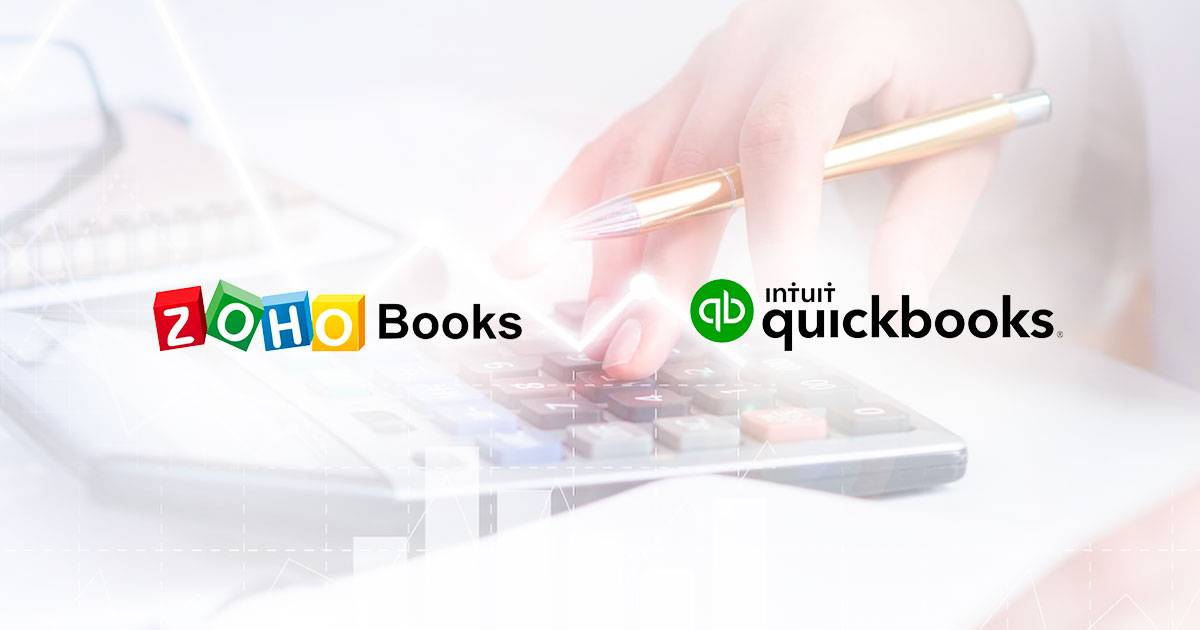 Zoho Books and QuickBooks stand out as leading accounting software solutions, catering to the needs of small businesses, freelancers, nonprofits, and startups alike. QuickBooks, renowned for its adaptability, emerges as an excellent selection for small and medium-sized enterprises in search of a customizable and comprehensive accounting solution. In contrast, Zoho Books earns its popularity due to its budget-friendly nature and its user-friendly approach to bookkeeping, tailored specifically for the requirements of small businesses. In this comparative analysis, we delve into the distinctions between Zoho Books vs QuickBooks to assist you in determining the ideal choice for your unique needs.
At a Glance Comparison Between Zoho vs QuickBooks
The big difference between QuickBooks vs Zoho is this: Zoho Books offers a free plan for businesses that earn less than $50,000, which is great for freelancers and those who run businesses part-time. On the other hand, QuickBooks Online costs more, but it shines because it has many connections with other apps, and there are lots of QuickBooks ProAdvisors available. This makes it easy to find a nearby bookkeeper if you ever need help.
Zoho Books Features
Individuals working as freelancers seeking a cost-free option and enterprises requiring robust mobile-based accounting support can benefit from Zoho Books, priced from $0 to $249. This accounting software accommodates a user base of 1 to 15 individuals, with an additional monthly charge of $3 for each extra user beyond that. Its free plan limitations are good for small businesses with an annual revenue of under $50,000 and a workload of managing up to 1,000 invoices. Notably, it boasts an intuitive user interface and a speedy setup process for added convenience.
Quickbooks Features
For companies in search of convenient access to nearby bookkeepers, Quickbooks is available in the price range of $30 to $200. It caters to a user range of 1 to 25, and although it does not offer a free plan, it does provide a generous 30-day trial period. While it is generally user-friendly, it may require some time and effort to complete the setup process.
QuickBooks Online vs Zoho Books: When to Use
Zoho Books is best used for the following:
For freelancers and very small businesses with just a few clients, Zoho Books offers a free option if your yearly income is under $50,000 and you need fewer than 1,000 invoices yearly.
QuickBooks Online, however, doesn't have a free plan.
When it comes to mobile accounting, Zoho Books' mobile app has more capabilities than QuickBooks Online's app. For example, you can keep track of bills and bill payments with Zoho Books, which QuickBooks can't do. This is why we consider Zoho Books the best alternative to QuickBooks overall.
If you're already using other Zoho products like Zoho Expense and Zoho CRM, it makes sense to go with Zoho Books because it's easier to use alongside these interconnected apps.
If you want to provide a client portal for your customers to view and manage their transactions, Zoho Books allows this. You can also access your accounts, approve or decline estimates, and pay invoices through it. QuickBooks doesn't offer a similar feature.
Manufacturers who need to keep a close eye on individual high-value items, like consumer electronics manufacturers, can benefit from Zoho Books' Elite plan, which offers serial inventory tracking.
Quickbooks is best used for the following:
For businesses that want to easily connect with local bookkeepers, QuickBooks Online shines because it has a wide network of QuickBooks ProAdvisors. This makes it simple to find a nearby bookkeeper when you need one. It's one of the reasons why we consider QuickBooks
Online the best overall small business accounting software.
When it comes to handling your own payroll, QuickBooks Online works seamlessly with QuickBooks Payroll. This allows you to pay your employees, calculate and withhold payroll taxes, and manage employee benefits in any state. In contrast, Zoho Payroll is only available in a few states like New York, California, Texas, and Florida.
If you want to connect QuickBooks with other software tools, it's great because it integrates with over 650 business apps. This wide range of integrations makes it easy to use QuickBooks alongside software services like customer relationship management (CRM), ecommerce, and many others. Zoho Books, on the other hand, primarily focuses on integrating with Zoho One apps rather than third-party options.
Zoho Books vs QuickBooks Online: The Bottomline
While it's clear that both of these software options are suitable for small and medium-sized businesses, let's delve deeper into their specific strengths:
Zoho Books: Zoho Books proves to be a fantastic option for small businesses and freelancers seeking straightforward and user-friendly accounting and invoicing software. It caters to those with limited budgets who don't require an abundance of features or extensive integrations but still need effective accounting tools. Moreover, it's an ideal choice for individuals or companies with fewer than ten employees, prioritizing basic accounting functions.
QuickBooks: On the other hand, QuickBooks shines when it comes to businesses that prioritize comprehensive accounting solutions to handle all aspects of their financial management. It offers a broader range of functionality compared to Zoho Books, delivering an array of features. However, it's worth noting that QuickBooks is not available for free like Zoho Books.
Zoho Books vs QuickBooks: Which is the Right Solution for You?
Ready to take control of your finances and elevate your business to new heights? Don't wait any longer – make the smart choice for your accounting needs today. Whether you're a freelancer, a small business owner, or seeking comprehensive financial management, Zoho Books and QuickBooks Online have got you covered. Harness the power of these top-notch accounting solutions to simplify your financial tasks and propel your business towards success. It's time to make the right move – try Zoho Books or QuickBooks Online now and unlock the potential of seamless, efficient accounting. Your financial journey begins here.