Tinder vs. Match – Choosing Your Ideal Dating Platform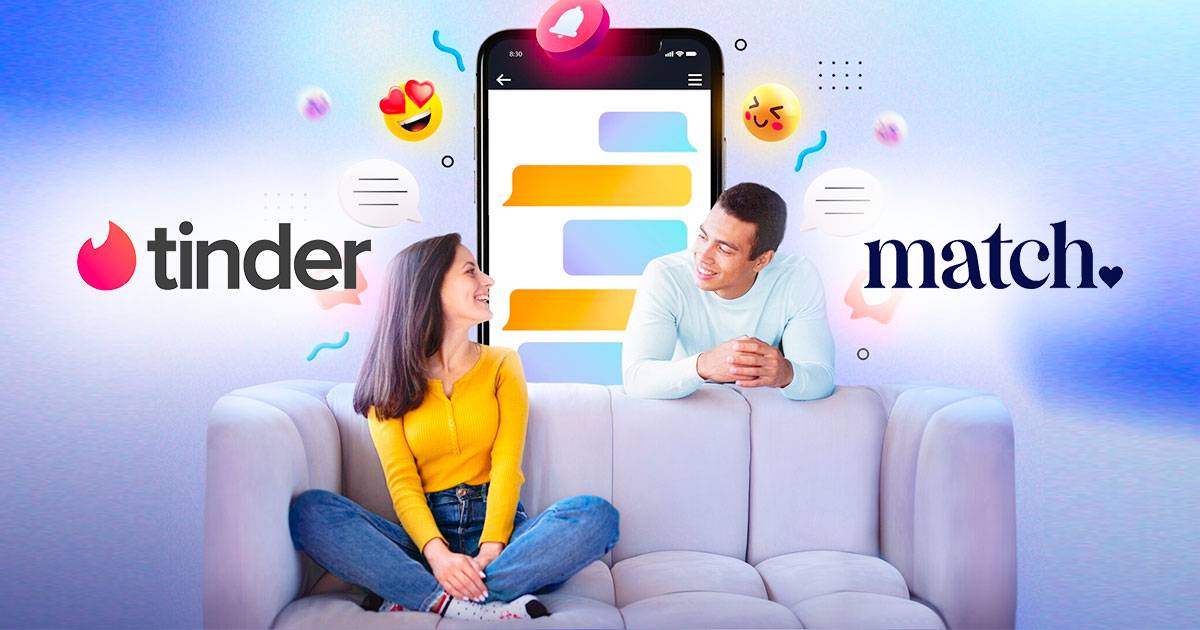 Online dating has become the standard in today's fast-paced society. With a multitude of options available, the choice of the right platform plays a pivotal role in your quest for meaningful connections. Two popular players in this space are Tinder and Match.com. This comprehensive article will provide you with an in-depth comparison of Tinder vs. Match so you can decide which one suits your dating goals.
Tinder vs. Match: A Detailed Analysis
Choosing between Tinder and Match.com can significantly impact your online dating experience. Each platform offers its unique approach to connecting people, making it crucial to understand the nuances before diving into the dating pool.
Match.com vs. Tinder – The Interface
To understand better the battle of Match.com vs Tinder, let us have a glimpse of each dating app:
What is Tinder?
Tinder, launched in 2012, is a renowned mobile dating application available for iOS and Android. It's recognized for its simple interface and the iconic swiping feature. Users peruse user-profiles and can either express interest by swiping right or dismiss it by swiping left. When both users swipe right, a match is created, enabling them to initiate conversations within the app. While Tinder is versatile and used by a broad audience, it is often associated with casual and spontaneous dating. It caters to a spectrum of users, from those seeking casual encounters to those interested in more serious relationships. The app also offers premium features for subscribers, enhancing the user experience with options like rewinding swipes and super-liking profiles.
Tinder is a widely used mobile dating app that simplifies meeting new people and forming romantic connections. Its swiping mechanism has made it a standout platform in online dating, providing users with a convenient and straightforward way to discover potential matches.
What is Match.com?
Match.com is one of the pioneering and long-standing online dating websites, known for its extensive reach and reputation in the online dating industry. It was established in 1995 and has since been a prominent player in the world of online matchmaking. Match.com is designed to help individuals find meaningful and long-term relationships.
Users on Match.com construct thorough profiles detailing their hobbies, preferences, and what they're looking for in a companion. The program employs sophisticated algorithms to match users with potential mates based on compatibility, hobbies, and other factors. It operates on a subscription basis, with premium members accessing additional features such as communication tools and increased profile exposure. Match.com is often chosen by those who are more serious about their quest for love and are willing to invest time and effort into finding a compatible partner. It's considered a platform for individuals who prioritize quality connections and are seeking meaningful, committed relationships.
Is Match Better Than Tinder?
The answer to this question is heavily influenced by your tastes and goals for your online dating experience. Let's delve deeper into various aspects to help you make an informed decision of what to choose between Match vs Tinder:
Serious vs. Casual Relationships
Match.com is often associated with individuals seeking serious, long-term relationships. It offers capabilities for detailed compatibility matching, making it a good choice for individuals looking for something more substantial. On the other hand, Tinder is known for its more casual approach, often associated with hookups and casual dating. Match.com may be your best bet if you're looking for a deep, meaningful relationship.
User Base
Tinder boasts a larger user base, which can be beneficial in terms of a broader pool of potential connections. Match.com, while having a smaller user base, focuses on quality over quantity. If you value quantity and enjoy exploring a wide range of profiles, Tinder could be your go-to platform. On the other hand, if you prefer a more curated selection of potential matches, Match.com may be the better choice.
Demographics
The age and demographic of users on each platform vary. Match.com attracts a slightly older crowd, while Tinder is popular among a younger, more tech-savvy generation. Your age and demographic preferences can significantly impact your choice. Match.com might be better if you're looking for a more mature dating pool, while Tinder could be perfect for young adults seeking a vibrant, dynamic environment.
Cost
Match.com comes with a paid subscription, while Tinder offers both free and premium versions. Match.com's subscription may deter some users, but it also filters out those more serious about dating. If you're willing to invest in your search for a significant relationship and are ready to commit to the process, Match.com's paid model may align better with your goals. However, if you're looking for a more casual experience and want to test the waters without financial commitment, Tinder's free version is a suitable option.
Connections on Tinder
One of the key selling points of Tinder is its simplicity and the speed at which you can make connections. With just a swipe, you can match with someone who catches your eye. This immediate connection is both Tinder's strength and its potential downfall. While it's easy to make a connection, it can be challenging to ensure that these connections are meaningful.
Building connections on Tinder often involves navigating through a sea of profiles and making snap judgments based on limited information and visuals. While this can lead to exciting and spontaneous interactions, it can also result in superficial connections that may not lead to meaningful relationships.
In-Depth Profiles on Match.com
Match.com, on the other hand, allows users to create detailed profiles, providing a wealth of information about themselves, their interests, and their dating preferences. This level of detail is useful when looking for compatible matches. Match.com also offers advanced search and matching algorithms to help you find individuals with whom you share common interests and values.
When using Match.com, you have the advantage of learning more about a potential match before making a decision. This can result in more meaningful connections and less mismatched expectations. Match.com's approach is particularly beneficial if you seek a long-term, committed relationship.
Match vs Tinder – Safety and Security
Regarding safety and security, Tinder vs Match takes it seriously, but they have different approaches. Tinder's swiping mechanism allows you to connect with others, which can be exciting quickly, but it also means you might come across profiles with less-than-honest intentions. Match.com's more comprehensive registration process and paid subscription model attract users who are genuinely interested in finding a partner, potentially leading to a safer and more secure dating environment.
Match.com vs Tinder – Finding Your Perfect Match
In the world of online dating, there's no one-size-fits-all solution. The choice between Tinder vs Match depends on your dating goals, preferences, and what you want in a potential match. If you value simplicity, a large user base, and are open to both casual and serious connections, Tinder may be your go-to platform. However, if you are more interested in building meaningful, long-term relationships and are willing to invest in your search, Match.com might be the better option.
Remember, your dating journey is personal, and it's crucial to choose the platform that aligns with your desires and values. Whether you opt for Tinder or Match.com, both offer unique experiences that cater to different aspects of the dating spectrum.
To summarize, Match versus Tinder isn't about one being definitively better than the other; it's about which is best for you. Take the time to assess your priorities and select the platform that best suits your dating objectives.
With these insights, you can embark on your online dating journey confidently, whether you choose Match.com or Tinder as your preferred platform. Remember that the key to online dating success is to be authentic, patient, and open to new relationships. Good luck with your dating life!