Senior Living vs Assisted Living: Choosing the Right Senior Housing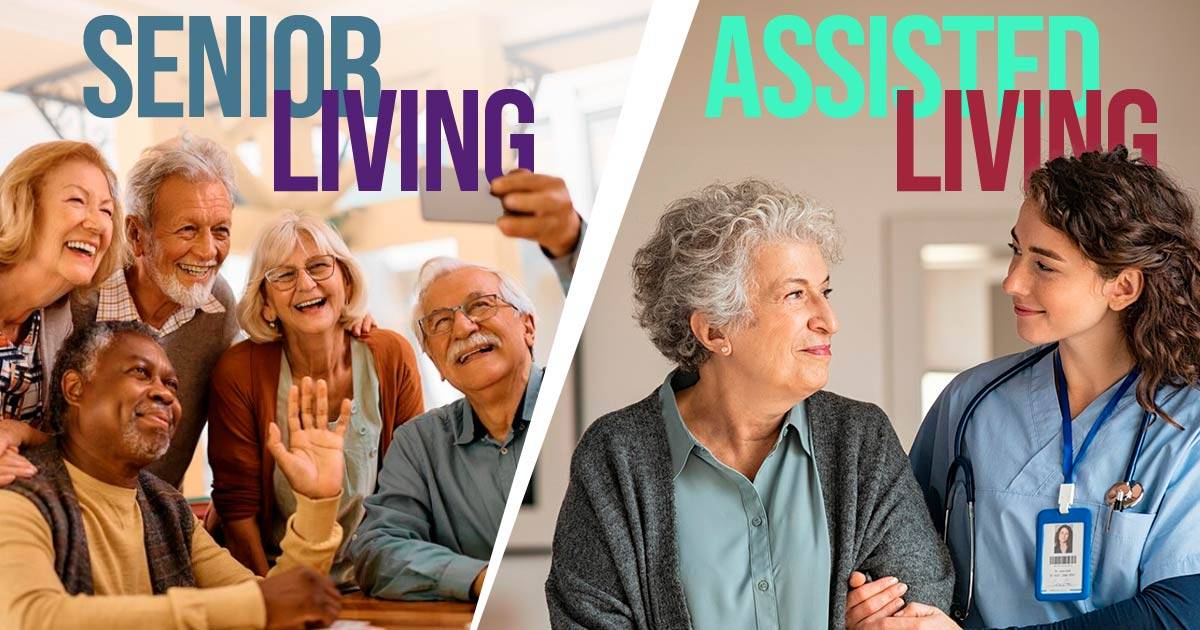 Searching for suitable housing options for an elderly family member can be an emotionally charged experience. This process can become even more daunting when you're uncertain about the most appropriate living environment for your loved one. To arrive at the right choice, it's crucial to distinguish between senior living vs assisted living communities.
What's the Difference Between Senior Living and Assisted Living?
Although their primary goals align closely, senior living tends to offer greater independence, whereas assisted living provides more comprehensive support and care for its elderly residents. The nuances that set these two communities apart often revolve around the range of amenities, services, and housing choices they provide.
Senior Housing vs Assisted Living – Are They the Same?
Senior living communities are meticulously crafted to offer a welcoming and sociable haven for individuals aged 55 and above. These communities prioritize the preservation of seniors' independence, all the while enhancing their overall quality of life. Within the realm of senior living communities, you'll discover a wealth of carefully curated activities like creative arts and bingo, delectable and communal dining experiences, daily fitness regimens, as well as personalized care plans that encompass essentials like medication administration, transportation, medical attention, and various support services tailored to individual needs.
Differences in Amenities and Services
A significant contrast between senior living and assisted living lies in the extent of care services offered within the community. Senior living communities aim to simplify residents' lives by offering meals, housekeeping, and various services, creating a social environment for them. Assisted living, on the other hand, includes these amenities and provides a full-time care team, with staff and medical professionals available around the clock for emergencies. Assisted living is designed for seniors who require assistance with daily tasks like bathing, dressing, mobility, and medication management.
Housing Options for Senior Living vs Assisted Living
Another distinction that distinguishes senior living from assisted living pertains to the variety of living spaces available within these communities.
In senior living, the emphasis on independence results in a wider array of living styles to select from. This encompasses options like apartment-style complexes or individual houses, granting residents personal, private spaces while maintaining accessibility to communal hubs for social engagement and activities.
Conversely, assisted living typically offers apartment-style housing, with specific facilities, like memory care units, implementing enhanced security measures to safeguard residents.
Types of Senior Living Options
Independent living caters to older adults, typically 55 and above, offering the freedom and convenience of solo living in apartments, condos, or detached homes. It also features scheduled community activities and a range of amenities and services, harmonizing independence with an active communal life and prompt access to assistance when necessary.
On the other hand, assisted living communities are designed for seniors in need of support with daily activities such as housekeeping, meal preparation, laundry, medication management, bathing, toileting, and dressing. While promoting independence, they provide the security of round-the-clock staff availability for emergencies, with residents typically residing in their own apartments, though shared options are sometimes available to reduce costs.
Memory care facilities, or dementia care communities, offer a secure environment for seniors with cognitive challenges like Alzheimer's or dementia. These facilities feature secured apartments and common areas to enhance safety, with a higher number of staff members providing specialized care compared to independent or assisted living. Residents may have individual or shared apartments, depending on affordability.
Who Needs Assisted Living?
Assisted living can enhance the daily life of seniors, particularly those facing challenges living independently. There are five signs to watch for that suggest a senior may benefit from transitioning to an assisted living community:
Social isolation, as they withdraw from usual gatherings, potentially indicating depression;
Declining health and frailty, with aging increasing the risk of chronic medical conditions and emergencies;
Diminished personal hygiene, reflected in unkempt appearance and reluctance to bathe, often due to fears of accidents;
A cluttered and dirty home, posing fall risks and affecting overall well-being;
Financial mismanagement, with unpaid bills indicating a need for support to avoid potential scams.
Is a Retirement Community Different From Assisted Living?
Retirement communities and assisted living facilities play a pivotal role in promoting seniors' independence, fostering social connections, and delivering top-notch care, all of which contribute to an enriched quality of life. Ensuring your beloved senior receives the right level of support is not only essential for their safety and well-being but also serves as a safeguard against the onset of caregiver burnout, a situation that can lead to unnecessary stress and strain on your relationship with them.
One big difference is that assisted living facilities offer a higher level of care with registered nurses and medical professionals who monitor residents, provide medical support, and cater to those with serious health needs, including memory care. They have round-the-clock staff assistance for daily tasks, meals, housekeeping, and transportation. In contrast, retirement communities are best suited for healthy, independent seniors seeking low-maintenance living with on-site amenities. Assisted living costs more, around $4,300 monthly, but it may have insurance or government assistance options. Retirement communities often require out-of-pocket payments.
Senior Living vs Assisted Living for You or Your Aging Loved Ones
If you or a loved one is navigating the complex terrain of senior housing options, it's crucial to understand the distinctions between senior living, assisted living, and retirement communities. Make an informed choice based on individual needs and preferences, ensuring a path to enhanced quality of life, independence, and well-being. Don't hesitate to explore the diverse options available, and take proactive steps to provide the right level of care and support. Remember, choosing the right living arrangement can make all the difference in maintaining a fulfilling and secure lifestyle during the golden years.