Choosing Between Christian Mingle and eHarmony: Your Ideal Dating Fit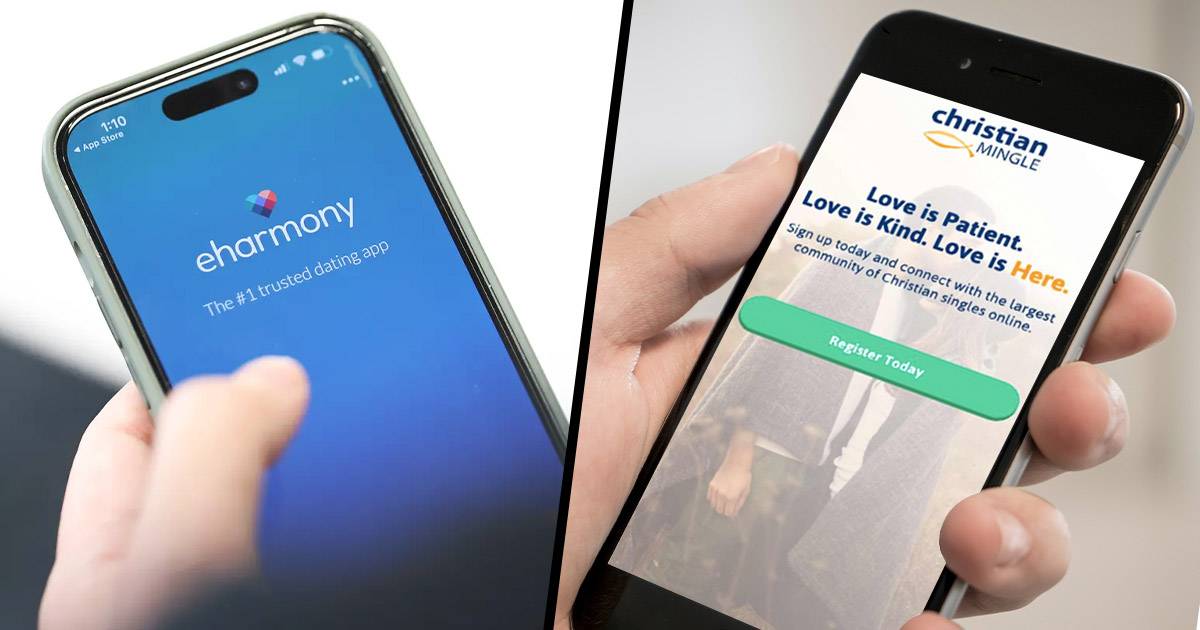 Do you ever wonder which dating site is right for you: eharmony vs Christian Mingle? They're both big names when it comes to finding a lasting relationship based on faith. But let's make it simple: this article will help you figure out which one suits you better. We'll compare Christian Mingle vs eharmony to see which is best overall and for your specific needs. Ready to find out where you might meet that special someone? Let's jump right in and get you the answers you're after!
Which App is Best for You?
If you're not particularly focused on a faith-centered relationship or your partner's religious beliefs aren't a top priority, eHarmony might be your best bet. Even though many users are devoted Christians, it's actually a secular platform welcoming people of all faiths.
But if you're aiming for a Christian-centered relationship, the choice between Christian Mingle and eHarmony really comes down to the kind of dating experience you're seeking.
Christian Mingle takes on a more DIY approach to online dating. You set up your account and have the freedom to explore singles in your search results. It's perfect for those who like to take control and have a clear idea of what they want.
Meanwhile, eHarmony is ideal for Christians following a guided communication process. Their system walks you through the experience and relies on a strong algorithm to match you with potential partners. It's a great option for those open to a different approach that's already helped over 2 million people find love. Our findings suggest that eHarmony users are generally more serious about dating, and there are fewer casual daters compared to Christian Mingle.
Key Differences Between eHarmony vs Christian Mingle
That said, below are some key differences you must know if you're searching for the perfect dating app as a Christian:
Features
eHarmony boasts a wider range of features compared to Christian Mingle. This variety is fantastic for tech-savvy individuals who enjoy exploring various tools. However, if you prefer a simpler, straightforward process, this might not be your best fit. It appears that eHarmony emphasizes continually introducing new features, whereas Christian Mingle hasn't rolled out many new updates lately. This could impact your experience if you're seeking innovative functionalities on the platform.
User Base
According to many eHarmony Christian reviews from users, it's a common misconception that eHarmony is a Christian-exclusive dating site, but it actually caters to a diverse range of individuals, although a significant number are Christians. If meeting singles who strongly align with your faith and values is your priority, Christian Mingle might better suit your needs. Unlike eHarmony, Christian Mingle solely focuses on uniting Christian singles, providing a more concentrated user base for those seeking partners with shared religious beliefs and values.
History
Christian Mingle started its journey in 2001, emerging just a year after the launch of eHarmony. Both these dating platforms have weathered the storm in a fiercely competitive market for more than 20 years, establishing a solid foothold in the ever-evolving realm of online dating. Their endurance speaks volumes about their adaptability and ability to meet the changing needs and preferences of users, paving the way for their continued relevance in the dating scene.
Goals
In general, both eHarmony and Christian Mingle share a common goal: to facilitate serious, long-term relationships for their users. If you're seeking casual dating experiences, it might be beneficial to explore alternative dating apps, as these particular platforms are primarily geared towards individuals pursuing more substantial and committed relationships. Their focus on fostering meaningful connections might not align with the casual dating scene, prompting a recommendation to consider other apps that cater more specifically to those needs.
Costs
Money-wise, Christian Mingle tends to be cheaper in most plans. If your main concern is the cost when looking for an online dating site, Christian Mingle might be the better choice for you. But if you care more about getting good value and don't mind spending a bit more, there's more to consider.
We like eHarmony despite the higher cost because it offers a lot more features. So, you're not just paying extra for the same experience; you're actually getting more for what you pay. Also, we think the higher price makes a difference in how seriously people take the whole dating thing. When someone invests more money, they usually put more effort into it. Think about it like having a $5 gym membership versus a $100 one—which would make you more likely to hit the gym?
Similarities and Differences of Christian Mingle and eHarmony
Christian Mingle's paid membership allows anonymous browsing, a feature not available on eHarmony. With eHarmony, you get a free profile check from their team to give you suggestions, which Christian Mingle doesn't offer, leaving you more on your own there. Profiles on eHarmony tend to be more detailed, while Christian Mingle profiles are shorter and contain less info.
If you prefer exploring profiles at your own pace, Christian Mingle provides more freedom in searching. On the other hand, eHarmony guides your interactions, taking a more active role in helping you find a special someone. It's not about one being better than the other, but rather which style suits you best.
Both sites offer decent space for photo uploads, so there's no difference there. They also feature a swipe-style interface for expressing interest, similar to Tinder, but with a focus on serious relationships rather than shallow interactions.
eHarmony vs Christian Mingle: Which Suits Your Preferences?
Ready to find the perfect dating app for you? Discover which site best aligns with your relationship goals and values. Whether you prioritize faith-centered connections or seek a broader, feature-rich experience, this comparison between Christian Mingle and eHarmony offers tailored insights. Dive into their differences and find the platform that suits your style. Don't miss out on meeting someone special—make an informed choice today and embark on your journey to meaningful, lasting relationships!