Sustainable Soap Brands: A Clean Choice for You & the Environment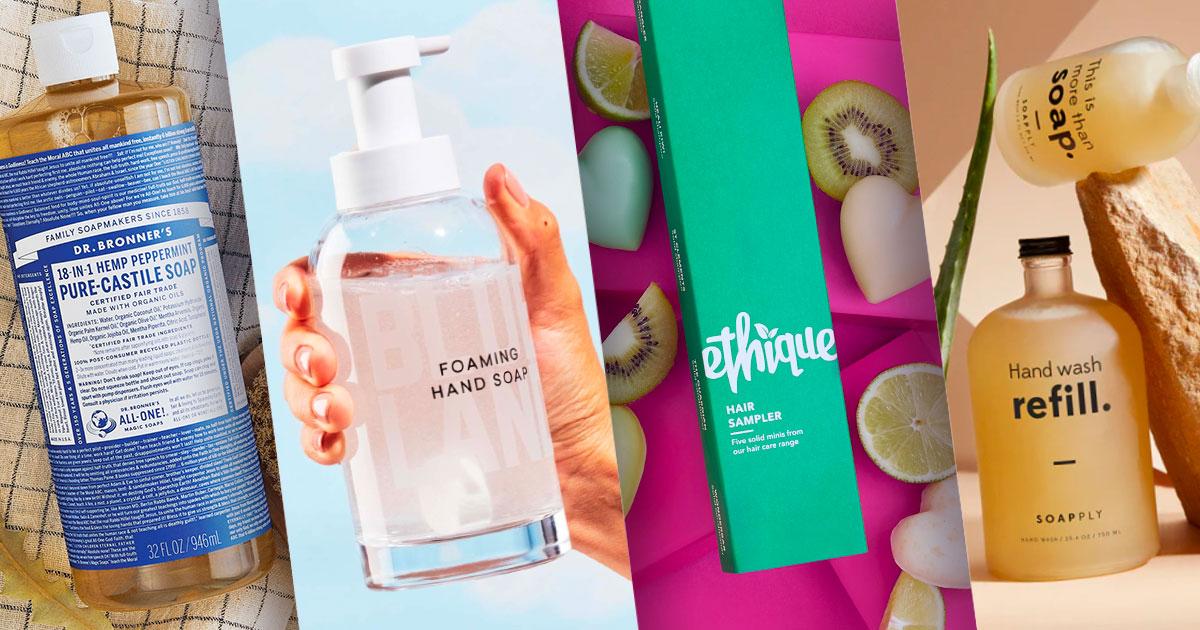 A vast majority of the personal care items we incorporate into our daily routines contain detrimental ingredients that are harmful to the environment and lack biodegradability. Take a moment to examine the label on your soap, and chances are, you'll come across substances like parabens, phthalates, triclosan, and other synthetic components that pose a threat to both the environment and your own well-being. But there are many sustainable soap brands to choose from today.
These don't contain worrisome chemicals as we have extensively researched companies' practices concerning environmental preservation. Moreover, we have scrutinized the ingredients they employ and whether they utilize packaging that is free from plastic. As a result, we have pinpointed eight sustainable brands that are dedicated to manufacturing personal care products with safe ingredients, ensuring that your face and body not only appear fabulous but also giving you the peace of mind that comes from making responsible choices.
Dr. Bronner's
Dr. Bronner's distinguishes itself by utilizing organic and Fair-Trade ingredients in their product range. The majority of their offerings are not only vegan but also certified according to the same rigorous standards applied to organic food. Unlike many conventional personal care products, Dr. Bronner's excludes synthetic preservatives and foaming agents from their formulations. By adhering to the principles of "conservative capitalism," the company ensures that the profits are shared with the dedicated workers involved in crafting their products, exemplifying their Certified B Corporation status. This is a company driven by compassion and empathy rather than conforming to the commonly understood meaning of conservatism.
The Dr. Bronner's Pure Castile Bar Soap Variety Pack is a delightful assortment that comprises six bars of exquisite environmentally friendly soap, all meticulously crafted using organic oils and completely free from synthetic preservatives and detergents. Each soap bar exudes its own unique aroma, with scents including Almond, Lavender, Citrus, Peppermint, Rose, and Unscented. Furthermore, these soaps proudly possess full biodegradability, ensuring that they do not leave behind harmful chemicals that could contaminate local water supplies or harm the environment.
Blueland
Blueland takes a proactive approach in curbing the consumption of single-use plastic through their innovative refillable environmentally friendly soap products. When you find yourself running low, simply replenish the bottle with water, insert a soap tablet, and commence your cleansing routine. This refill program effectively eliminates the necessity of purchasing new plastic containers, making a significant impact on reducing plastic waste. Rest assured, the soap tablets are meticulously crafted using clean and safe ingredients, prioritizing both your well-being and environmental consciousness.
In addition to their commendable efforts in plastic waste reduction, Blueland further minimizes their ecological footprint by employing earth-friendly packaging that can be recycled or composted in numerous cities across the United States, although not yet universally available. Here's the kicker: in case local recycling options are limited, Blueland offers the convenient option of returning the packaging to them for recycling. To optimize sustainability, we recommend amassing a year or two's worth of packaging before sending it back, thereby mitigating the shipping emissions associated with the materials.
Ethique
Ethique stands out by offering solid eco friendly soap bars that are housed in recyclable cardboard containers, ensuring they are completely devoid of plastic, laminates, and chlorines. With a commitment to environmental responsibility, the company achieved carbon neutrality back in 2012. Impressively, in 2020, Ethique went a step further and became carbon negative by offsetting more carbon emissions than it actually generates. Their product range is built upon sustainability, featuring biodegradable formulations that are entirely free from petrochemicals, animal derivatives, and other synthetic and harmful substances. Ethique proudly holds B Corp Certification and actively supports direct trade practices.
Soapply
Soapply takes pride in crafting its products exclusively from natural ingredients, going the extra mile to ensure they are free from parabens, sulfates, artificial colorants, and added fragrances. Emphasizing their commitment to sustainability, Soapply follows stringent packaging standards by delivering their eco friendly bar soap in recycled glass containers that are designed to be refilled, reused, and ultimately recycled. Beyond their dedication to environmental consciousness, Soapply is driven by a noble mission to ensure that individuals worldwide have access to clean water, sanitation, and essential hygiene products. Remarkably, with every purchase of an 8-ounce Soapply product, you contribute directly to supporting these vital initiatives.
Common Good
Common Good stands out by offering a range of natural, biodegradable, and refillable soaps and cleaners. Throughout the United States and various other countries, Common Good provides convenient refill stations where you can replenish your reusable containers. Alternatively, refills can also be ordered online, ensuring a hassle-free and sustainable experience. Notably, all the ingredients utilized by Common Good in their soaps and cleaners have received approval from the esteemed Environmental Working Group (EWG) for safe daily use by humans.
The Clean Hands Set by Common Good presents a comprehensive solution for maintaining optimal hand hygiene. It comprises a generous 34-ounce hand soap refill, two 4-ounce hand sanitizer sprays, and a 16-ounce empty glass bottle. The hand soap is carefully formulated to be free from sulfates, parabens, and phthalates, promoting a clean and safe experience. You have the option to choose between two delightful scent options: bergamot + grapefruit or lavender + grapefruit. Beyond its appealing aesthetics, the glass bottle serves as an elegant step towards sustainability, effectively reducing your reliance on single-use plastics while adding a touch of sophistication to your daily routine.
Which of These Eco-Friendly Soap Brands Fit the Bill?
Opting for these sustainable brands promotes protecting yourself from harmful ingredients. At the same time, you can contribute to the reduction of single-use plastics, carbon emissions, and overall environmental degradation. From organic and Fair-Trade ingredients to refillable packaging and carbon-neutral operations, each brand exemplifies the transformative power of conscious consumer choices.
Together, we can create a cleaner, greener, and more sustainable world, where personal care products no longer harm the environment but instead nourish and protect both ourselves and the delicate ecosystems around us. Let us embrace the power of sustainable choices and embark on a journey towards a brighter future for our planet.