Grow Your Career with Different Advancement Opportunities for a Physical Therapist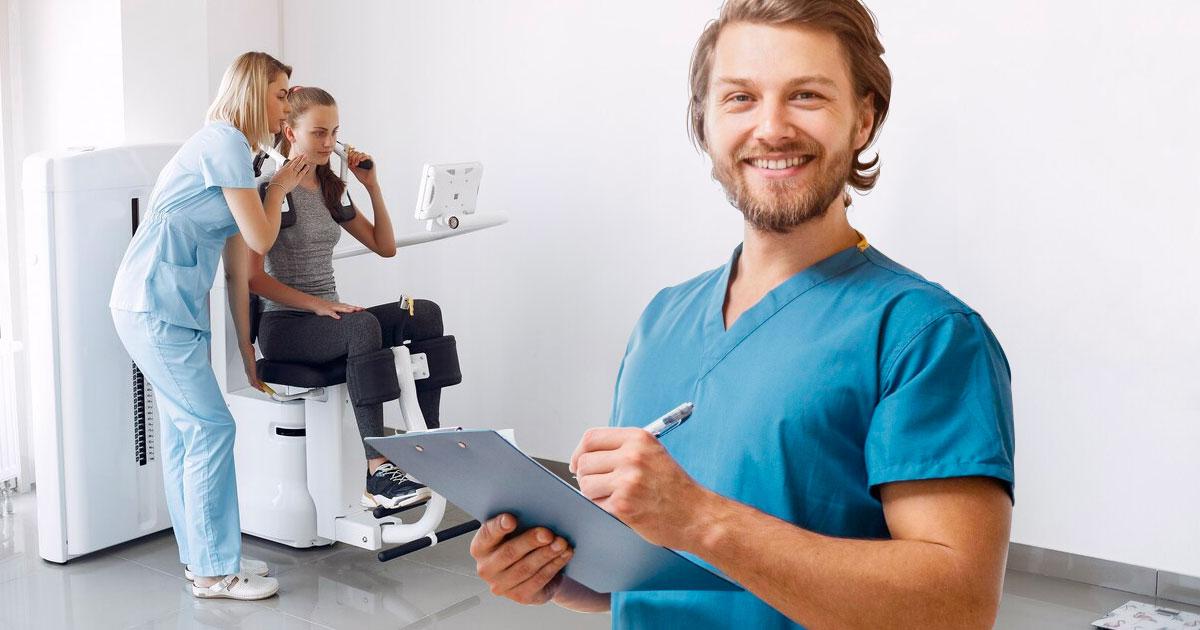 Becoming a licensed physical therapist is an incredible achievement, but it's only the beginning of your journey. You may constantly seek advancement opportunities for physical therapist positions and new horizons to establish progress, step by step.
Once you've obtained your Doctor of Physical Therapy degree and are actively practicing, there's always another level of physical therapist opportunities for advancement waiting for you. You may have aspirations to enhance your earnings or expand your expertise in the field of physical therapy. Rest assured, there are numerous avenues open to you.
This extensive manual is designed to help you explore the various opportunities for advancing your physical therapy career. Within these pages, we'll delve into the physical therapist advancement opportunities that await you and show you how to continue your path of professional development in the field of physical therapy.
Complete a Post-Professional Program Through the ABPTRFE
Would advancement require additional training? The answer is yes. You, as a physical therapist, have the remarkable opportunity to pursue PT residency and fellowship programs accredited by the American Board of Physical Therapy Residency & Fellowship Education (ABPTRFE). With the esteemed recognition of the American Physical Therapy Association (APTA), this agency establishes the benchmarks for post-professional physical therapy programs across the country.
By engaging in these accredited programs, you gain access to a world of specialized training and expertise, empowering you to elevate your skills and knowledge in the field of physical therapy. The ABPTRFE ensures that these programs adhere to the highest standards, providing you with a valuable platform for professional growth and advancement.
Become an ABPTS-Certified Specialist
As a physical therapist, you have the incredible opportunity to pursue certification in various specializations through the American Board of Physical Therapy Specialties (ABPTS), a renowned organization recognized by the APTA. This certification is a testament to your commitment to specialized training and expertise.
At this moment, there are ten captivating specializations available for you to choose from:
Cardiovascular and pulmonary – If you decide to specialize in cardiovascular and pulmonary therapy, your focus will revolve around treatments that improve the health of your patients' hearts, veins, and lungs.
Clinical electrophysiology – With the advancement of technology, clinical electrophysiology has opened up new possibilities for physical therapists. By specializing in this field, you will utilize devices to measure, analyze, and elicit physiologic responses in your patients.
Geriatrics – By choosing geriatrics as your specialization, you will have the opportunity to assist clients in maintaining wellness as they age and recovering function after strokes and other age-related conditions.
Neurology – The field of neurology offers immense demand, where you will be able to treat patients with diverse neurological disorders, injuries, and impairments.
Oncology – Specializing in oncologic physical therapy involves managing the unique needs of patients with cancer and related conditions.
Orthopaedics – Orthopaedics is the most popular specialization and focuses on the treatment of injuries and conditions affecting the bones, muscles, tendons, ligaments, and joints. Specialists in this area also work with patients with systemic musculoskeletal disorders like arthritis and those recovering from surgeries.
Pediatrics – As a pediatric specialist, your focus will be on treating physical conditions in young individuals, ranging from newborns to teenagers. You may work with patients diagnosed with conditions such as cerebral palsy, autism, and cystic fibrosis.
Sports – Specializing in sports therapy allows you to concentrate on the prevention, treatment, and rehabilitation of sports-related injuries, considering both physiological and psychological aspects.
Women's health – In this relatively new specialty, you will learn how to assist women experiencing conditions related to pregnancy, post-partum, menopause, and other health issues throughout a woman's lifespan.
Wound management – As the newest specialization, wound management encompasses the comprehensive treatment of both superficial and deep wounds, emphasizing the interrelationships between body systems and the impact of treating one system on another.
Earn a Terminal Degree
You may have already achieved the remarkable milestone of obtaining a Doctor of Physical Therapy (DPT) degree, which serves as an entry-level qualification in your profession. However, if you aspire to attain the highest level of education in your field, you may consider pursuing a terminal degree such as an EdD or PhD.
While the DPT signifies a significant accomplishment, obtaining a terminal degree offers you the opportunity to delve even deeper into the theoretical foundations, research methodologies, and advanced knowledge within the realm of physical therapy. By pursuing an EdD (Doctor of Education) or a PhD (Doctor of Philosophy), you can position yourself at the forefront of your profession, contributing to the advancement of knowledge, shaping future generations of physical therapists, and making a lasting impact in the field.
Join an APTA Chapter or Section
To further your professional growth and expand your network, it's highly recommended that you become a member of your local chapter of the American Physical Therapy Association (APTA).
With chapters spanning across all 50 states and the District of Columbia, APTA provides a platform for physical therapists like yourself to engage in networking opportunities and advocate for the advancement of your profession within local and state legislations.
Moreover, APTA offers specialized sections, also known as "academies," dedicated to various areas of physical therapy. These academies organize informative courses, host conferences, and publish scientific journals. Active involvement in these dynamic communities allows you to contribute to shaping the future of physical therapy in the United States while expanding your knowledge and expertise within the discipline.
Advance Your Career as a PT with the Tips Above
Your journey as a licensed physical therapist is just the beginning of an incredible professional odyssey. To achieve continuous growth and advancement, you have a myriad of opportunities at your fingertips.
Remember, as you embark on your journey towards professional development, embrace the opportunities that lie ahead, take one step at a time, and continue to make a lasting impact in the world of physical therapy. Your dedication, expertise, and commitment to improving lives will shape the future of this remarkable profession.