10 Telltale Signs That It's Time for a Tree to Be Cut Down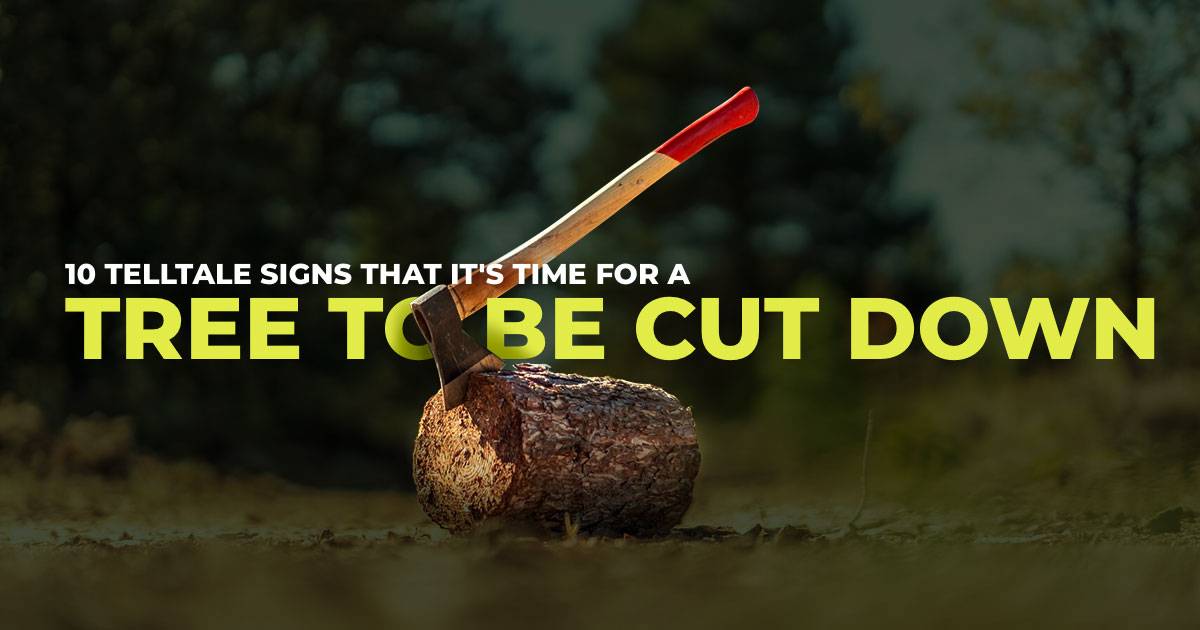 Trees are a magnificent testament to nature's beauty and resilience. They stand as towering sentinels in our yards, their branches reaching out like arms, offering shade on hot summer days and a spectacle of colors come fall. Trees are more than just components of our landscaping; they are an integral part of our homes and often hold a special place in our hearts. Many of us have childhood memories of watching these giants grow, marking our own growth and the passage of time. Despite the inevitable sadness that comes with parting from these old friends, sometimes it becomes necessary.
The benefits of trees are numerous. A single tree can absorb as much as 48 pounds of carbon dioxide per year, and urban forests in the U.S. store over 708 million tons of carbon, helping to combat climate change. Moreover, studies have shown that exposure to trees can reduce mental fatigue, improve recovery from surgery, and even lower crime rates in urban areas.
However, despite their many benefits and the sentimental value we attach to them, there are circumstances when tree removal becomes inevitable. Trees that are dying or dead can pose significant risks to people and property. They become structurally unstable, making them more likely to drop branches or even topple over entirely. In such cases, the responsible and prudent course of action is to remove the tree.
10 Telltale Signs It's Time to Remove a Dead Tree
Unexpected Leaf Loss
When a tree starts shedding its leaves outside of its natural cycle, it's often an indication of stress or disease. The tree may be attempting to conserve its resources in a fight for survival. As the tree weakens, it becomes more vulnerable to adverse weather conditions like storms or high winds, increasing the risk of damage or injury from falling branches or the tree itself.
Bark Irregularities
The bark acts as a tree's protective shield against environmental threats. If you observe missing sections of bark or deep fissures, it's likely that the tree is in the process of dying or is already dead. This condition compromises the tree's defense system, leaving it prone to diseases and pests, which can speed up its decay and make it more likely to drop branches or fall over completely.
Abundance of Dead Branches
A tree with numerous dead branches, especially if they're concentrated on one side, could be a sign of structural instability. Dead branches are brittle and can break off easily, posing a threat to people and property underneath. Moreover, a large number of dead branches could be a symptom of a disease that could eventually kill the entire tree.
Fungal Presence
Fungi growing at the base of the tree often point to internal decay. Certain types of fungi can cause severe decay that weakens the tree's structure. If you notice fungal fruiting bodies (like mushrooms), it usually means the decay is advanced, and the tree's stability is compromised, making it more likely to fall.
Sudden Leaning
While some trees naturally lean due to their growth pattern, a sudden or increasing lean can suggest root damage and instability. This condition implies that the tree's root system might be deteriorating, raising the risk of the tree toppling over, especially during storms or high winds.
Root Damage
Visible roots that are damaged or decayed can undermine a tree's stability, making it more prone to falling over. Roots can be damaged by several factors, including construction activities, soil erosion, or diseases. A tree with significant root damage is unstable and could easily fall, posing a potential safety hazard.
Damaged Trunk
A hollow or rotten trunk can significantly weaken a tree's structure, increasing the likelihood of it falling. Internal decay can result in a hollow trunk, which might not be evident from the tree's exterior appearance. Despite a seemingly healthy exterior, a hollow trunk signals serious structural instability.
Sprouts at the Base
The appearance of new sprouts at the tree's base, also known as epicormic shoots, often indicates stress. These sprouts usually emerge when the tree is trying to grow more leaves for photosynthesis, typically when it's under severe stress from damage, disease, or unfavorable growing conditions.
Peeling Bark or Absence of Leaves
A tree with peeling bark or missing leaves on its branches or trunk is sending distress signals. These signs indicate a struggling tree that might not recover, which could pose risks as its health deteriorates and it becomes more likely to drop branches or fall over.
Unhealthy Appearance
If the tree appears unhealthy overall, with wilted or discolored leaves and stunted growth, it might be time to consider its removal. These signs could point to a range of issues, including diseases, pests, or poor growing conditions. An unhealthy tree is more susceptible to falling, posing a potential safety threat.
If you notice any of these signs, it's crucial to get your tree assessed by a certified arborist. They can provide expert advice on whether the tree needs to be removed or if it can be saved. It's always better to act sooner rather than later when it comes to potential risks posed by unhealthy or dead trees.
Dead Tree Removal: The Process of Removing a Dead Tree
The task of removing a dead tree should always commence with a comprehensive evaluation by a certified arborist. These professionals possess the expertise and knowledge to determine the most suitable removal method, factoring in the tree's size, location, and overall condition.
For smaller trees situated in open spaces, it might be feasible to bring them down in one piece. However, larger trees or those positioned near structures or power lines may necessitate a more segmented approach to removal.
This process typically begins with the elimination of branches, starting from the bottom and gradually working upward. Following this, the trunk can be sectioned and cut down, with each piece carefully controlled and lowered to the ground using ropes to ensure safety.
After the tree has been safely brought down, the remaining stump will need addressing. Depending on individual preferences and specific circumstances, the stump can be left as is, ground down, or completely uprooted.
It's paramount to understand that tree removal can pose significant dangers and should never be attempted without professional help. Trained professionals have the requisite experience and equipment to carry out the job safely and effectively. Furthermore, they can make a more scientific decision about whether a tree needs to be removed or if it can be treated and saved, ensuring the health and longevity of your landscape.